Graduate Student Directory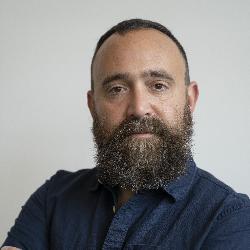 Title
Division Humanities Division
Department

History of Consciousness Department

Email
Website
Office Location

Humanities Building 1, 430

Office Hours email for appointment
Mail Stop History Of Consciousness
Courses HISC 80T What is the Witch?: Terror, Subjectivity & Modernity
Research Interests
Gabriel Saloman Mindel's dissertation research explores the dynamic relationship between noise and protest, considering the performance of soundmaking as an intervention into the sovereign power to silence, and the hidden violence embedded in the sonic disruption of public and private space. Within this larger critical noise studies project are interdisciplinary explorations of social movements, musical performance, border theory, free speech and human rights discourse, modern political theory, critical geography, Black critical theory, public art, queer phenomenology, histories and theologies of abolition, and the figure of Paul Robeson.
Other research includes:
The relationship between contemporary art, soundscapes, landscapes, Indigeneity and settler colonialism.
The sonic mediation of wartime violence in written, audio-visual and material forms.
The Witch as a historical and cultural figure at the intersections of gender, race, capital, sovereign power and fantasy.
Biography, Education and Training
Gabriel Salomon Mindel is an interdisciplinary artist, musician and scholar whose research combines the study of sound and theories of power, particularly the use of noise to extend beyond the limits of the body in struggles for space and political autonomy. For two decades he has been exhibiting artwork, performing improvised music and composing for dance and film. His writing has been published in numerous arts publications as well as Sounding Out! and The Journal of Aesthetics & Protest.
Education:
MFA; School for the Contemporary Arts, Simon Fraser University (2013)
Honors, Awards and Grants
Legal Studies Graduate Fellow, Legal Studies Department, University of California Santa Cruz (2021)
Summer Research Fellowship, The Humanities Institute, University of California Santa Cruz (2020)
UCSC Teaching Assitant Award, The Humanities Institute, University of California Santa Cruz (2020; 2017)
Public Fellow, The Humanities Institute, University of California Santa Cruz (2019)
Elisabeth Remak-Honnef Center for Archival Research and Training (CART) Fellowship, McHenry Library Special Collections, University of California, Santa Cruz (2017)
Multi-Campus Graduate Working Group: "Counter-Production: Noise as Critical Research in Sound Studies", UCHRI (University of California Humanities Research Institute (2017-18)
Regents Fellowship, University of California (2016)
Rent Burden: 72% (what's this?). Most graduate students at UCSC face severe rent burden, which means spending more than 50% of their stipends, before taxes, on housing. That is why I support the campaign to grant students and workers at UCSC a cost of living adjustment (COLA). To learn more, go to http//:www.payusmoreucsc.com.
Teaching Interests
Sound Studies
Critical Theories of Race, Class & Gender
Media & Cultural Studies
American & Canadian Studies
Modern & Contemporary Art, Art History & Visual Culture
History of Music & Audio Cultures