Graduate Student Directory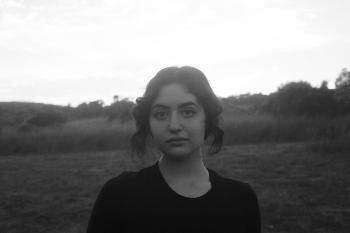 Title
Division Humanities Division
Department

History of Consciousness Department

Email
Office Location

Humanities Building 1, N/A

Mail Stop History Of Consciousness
Research Interests
Social Movements, Kurdish Studies, Middle Eastern Studies, Feminist Theory, Gender and Capitalism, Decolonial Methodologies, Ethnography/Oral History, Activist-based Research, Pedagogy and Popular Education, Affect Theory
Biography, Education and Training
Ariella Patchen (she/they) is an activist, artist, and researcher whose work focuses on international organizations that work in solidarity with and in support of the Kurdish freedom movement and the broader Kurdish diaspora. As a participant of these solidarity organizations herself, Ariella aims to understand what draws international actors to support the struggle and how they have worked to adopt the movement's democratic principles and practices in their own communities and lives. In the past, Ariella has focused her research on women's movements in Chiapas, Rojava, and Palestine, abolitionist organizing, and global mutual aid projects. Her work draws on decolonial feminist theory, ethnographic methodologies, and activist/community based research approaches. Ariella holds an M.A. in Sociology from Binghamton University and her most recent work has appeared in the book project Pandemic Solidarity as well as in the Nation magazine.
Honors, Awards and Grants
Board of Directors, California Kurdish Community Center, 2023.
"University of the Future, Now!" Fellowship, 2023.
Eugene V. Cota-Robles Fellowship, 2022-2024.
Selected Publications
bergman, carla, magali rabasa, Seyma Ozdemir, and Ariella Patchen. 2020. "Turtle Island (North America)." In Pandemic Solidarity, edited by Marina Sitrin and Colectiva Sembrar. London: Pluto Press. https://doi.org/10.2307/j.ctv12sdx5v.19
Briy, Anya, and Ariella Patchen. "Celebrating Zapatista and Kurdish Women's Struggles, on International Women's Day," March 8, 2022. https://www.thenation.com/article/world/zapatista-rojava-womens-movement/.
Review with Marina Sitrin of Engendering Revolution: Women, Unpaid, Labor, and Maternalism in Bolivarian Venezuela by Rachel Elfenbein. Mobilization: An International Quarterly, Volume 25, Issue 2, June 2020, https://doi.org/10.17813/1086-671X-25.2.285.
Selected Presentations
Panelist, "A Genealogical Reading of Jin, Jîyan, Azadî or Woman, Life, Freedom: Jîna Amini's Death and the Role of Women in the Kurdish Liberation Movement," at "No Turning Back: The Future of Feminist Politics and Social Justice" Wake Forest University, March 17, 2023.
Guest Lecturer, "COVID-19 and Prison Abolition," Binghamton University Department of Sociology, March 10, 2022.
Guest Lecturer, "On Saidiya Hartman's Wayward Lives, Beautiful Experiments: Critical Fabulation and Exercising the Imagination," Binghamton University Department of Sociology, March 2021.
Presentation with Marina Sitrin, "Thinking on Sunday: Pandemic Solidarity- Mutual Aid during the COVID-19 Crisis," Conway Hall Ethical Society, November 15, 2020.
Panel Discussion with Colectiva Sembrar, Hosted by the Anthropology Department at University of Massachusetts Amherst, October 30, 2020.
Paper Presentation, "Ecologies of Resistance: Women in the Black Panther Party,"
Climates of Crisis, World Ecology Research Network, February 7, 2020.