Graduate Student Directory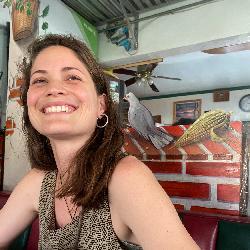 Title
Division Humanities Division
Department

History of Consciousness Department

Phone
Email
Office Location

Humanities Building 1, Remote

Mail Stop History Of Consciousness
Summary of Expertise
Justine's research draws together political theory, philosophy, literature, and environmental thought to consider questions of politics, sovereignty, and nature. Her master's thesis explored ecological thinking in Theodor Adorno and Hannah Arendt's aesthetic and political theories with an eye towards the biopolitical implications of these connections. Her current research looks to indigenous politics, specifically in Aotearoa NZ/Oceania, to consider conceptions of sovereignty and ecological responsibility in Māori history and thought. More specifically, she is looking at how Māori literary and legal discourses of land/sea reclamation both capitulate to liberal conceptions of sovereignty and also disrupt them by invoking political formations drawn out of te ao Māori (the Māori world). Following Donna Haraway and Anna Tsing, who suggest we must "stay with the trouble" or learn how to "live in the ruins," Justine aspires in her research, teaching, and written work to model this embodied politics of care to meet this challenge.
Research Interests
political theory; 19th-20th century German literature and philosophy; intellectual history; critical theory; environmental/ocean humanities; indigenous studies; politics and aesthetics; feminist science studies
Biography, Education and Training
Justine is a doctoral student in History of Consciousness with a background in political theory, German literature & philosophy, and environmental thought. She graduated from UC Berkeley with high honors in 2012 before earning an M.A. in Comparative Literature at the University of Oregon in 2017. Prior to starting her graduate studies at UCSC, she taught history, philosophy, and literature for four years at a philosophy-based high school in Los Angeles, CA.
Honors, Awards and Grants
Cota-Robles Fellow, UC Santa Cruz, 2021-23
Beall Fellow, University of Oregon, 2015-17
Villard Scholar, University of Oregon, 2015-17
Summer Undergraduate Research Fellow, UC Berkeley, 2011
Selected Publications
"Love the Killjoy." In Millennial Feminism at Work, edited by Jane Juffer. New York, Cornell University Press, Nov 2021.
"Upcycling." In In, From & With: Exploring Collaborative Survival, preface by Anna Tsing, edited by Grace Denis. Berlin, Circadian Books, March 2021.
"On the Meaning of Home in a More-than-Human World." In Lady Science, 24 Nov 2020. https://www.ladyscience.com/features/on-the-meaning-of-home-in-a-more-than-human-world-2020
"Of Abortions, Miscarriages, and Would-Be Mothers." In Lady Science, 10 Dec 2019. https://www.ladyscience.com/features/abortions-miscarriage-would-be-mothers
"Fecundity." In Environmental Humanities, Duke University Press, vol. 9, no. 2, 2017, pp. 460-63. https://read.dukeupress.edu/environmental-humanities/article/9/2/460/133030/Fecundity
"Narrative, Speech and Action: Gandhi's Satyagraha and the Constant Becoming of Truth." Berkeley Undergraduate Journal, vol. 12, no. 2, 2012.
"Narratives and the Social Imagination: Lessons in Reading for Gandhi's Theory of Action. Presented at Summer Undergraduate Research Conference on August 23, 2011. Published in Berkeley Undergraduate Research Journal, vol. 24, no. 2, 2011.
Teaching Interests
political & intellectual history; literature and philosophy; speculative fictions; environmental thought