Graduate Student Directory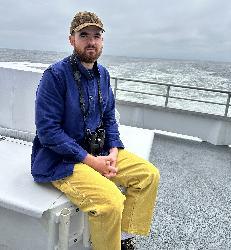 Title
Division Humanities Division
Department

History of Consciousness Department

Email
Office Location

Humanities Building 1, 315

Mail Stop History Of Consciousness
Research Interests
Philip studies the Cofradía de San José, a lay Catholic brotherhood that clashed with the Spanish state in the 1840s after its leader experienced a vision of the Virgin Mary, and his dissertation uses this as a case study to re-examine the widespread historical phenomenon of popular political movements inspired by religious experience. Critically re-examining secular categories like "religion" and "belief," the dissertation argues that in the case of the Cofradía and similar movements, religion is better understood as a form of embodied practice aimed at the cultivation of certain sensory and experiential capacities as a way of forming dialogic relationships with holy figures. This research engages the traditions of religious studies, anthropology, posthumanism, and critical theory to argue that the suppression of popular politico-religious movements like the Cofradía are a constitutive aspect of the process of "disenchantment" in modernity, understood as a hegemonic political and epistemological project geared toward the purification of popular forms of knowledge and practice from the world.
Biography, Education and Training
Phil grew up in Boyne City, Michigan and attended the University of Michigan in Ann Arbor, where he studied jazz trombone with Dennis Wilson and graduated with a degree in English and Music in 2012. In 2014 he co-founded a literary and political magazine based in Detroit called The Periphery, for which he wrote essays on movies and moviegoing. In 2020 he published A People's History of Detroit (Duke University Press), co-written with Mark Jay. Phil is an avid gardener and a mediocre guitar player, and has eaten pork on three continents.
Honors, Awards and Grants
2022-Gary Lease Fellowship, UCSC Humanities Division
2021-SEACoast Junior Scholars Research Fund
2021-Outstanding Teaching Assistant, History of Consciousness
2021-Foreign Language and Area Studies Summer Fellowship (Filipino), U.S. Department of Education
2021-Dissertation Proposal Development Program, Social Science Research Council
2019/20-Regents Fellowship, UCSC
2019-Humanities Fellowship, UCSC
Selected Publications
A People's History of Detroit. With Mark Jay. Duke University Press, 2020.
"Opportunity Detroit." With Mark Jay. Jacobin, 2018.
"Detroit and the political origins of 'broken windows' policing." With Mark Jay. Race and Class, 2017.
Teaching Interests
HISC 123 - What Is Belief? Mystics, Heretics, and Aliens