Department 
News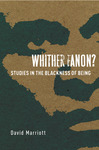 Professor David Marriott's Whither Fanon? Studies in the Blackness of Being is now available from Stanford University Press.
From the Stanford University Press description: "For the first time, Fanon's therapeutic innovations are considered along with his more overtly political and cultural writings to ask how the crises of war affected his practice, informed his politics, and shaped his subsequent ideas."
Click here to learn more and read excerpts from Professor Marriott's book.
For 
Students
Click on the links below for more information:
Support for 
HISC
Click on the links below for more information: